Are you struggling to create a brand style that really captures who you are?
When people are stuck feeling like that have a brand that just doesn't feel like them it's because there is a disconnect between their brand message and their visual heart.
We will walk through my step-by-step process of creating a brand that feels like an extension of yourself.
We will start with getting really clear on who you are. Then we will work through some creative exercises to connect some visuals to your brand values. Now we are ready to develop your style by creating a mood board and color palette.
I will teach you how to create a polished logo. Then I will show you how select fonts and use them in a way that makes your copy stand out.
At the end of this course you will have a brand style guide to create a cohesive polished look that feels like you and connects with your potential clients.
What You Will Learn
• Brand Foundations - Defining your mission, vision, values, & Ethos
• Connecting visuals to your brand foundations - How to create a mood board and color palette.
• Using your visual brand - How to apply your mood board and color palette to your website, logo, and marketing materials. How to develop a style guide. Type 101 for creating content and graphics.

Why This Course Will Work For You
Each step comes with examples and worksheets where we walk through the process together.
You have access to templates and instructions on multiple ways to create your mood board and color palette.
There are 10 done for you mood boards and color palettes arranged by style.
You have a font combination cheat sheet and swipe files and instructions on how to use your color palette and mood board so you look like a pro.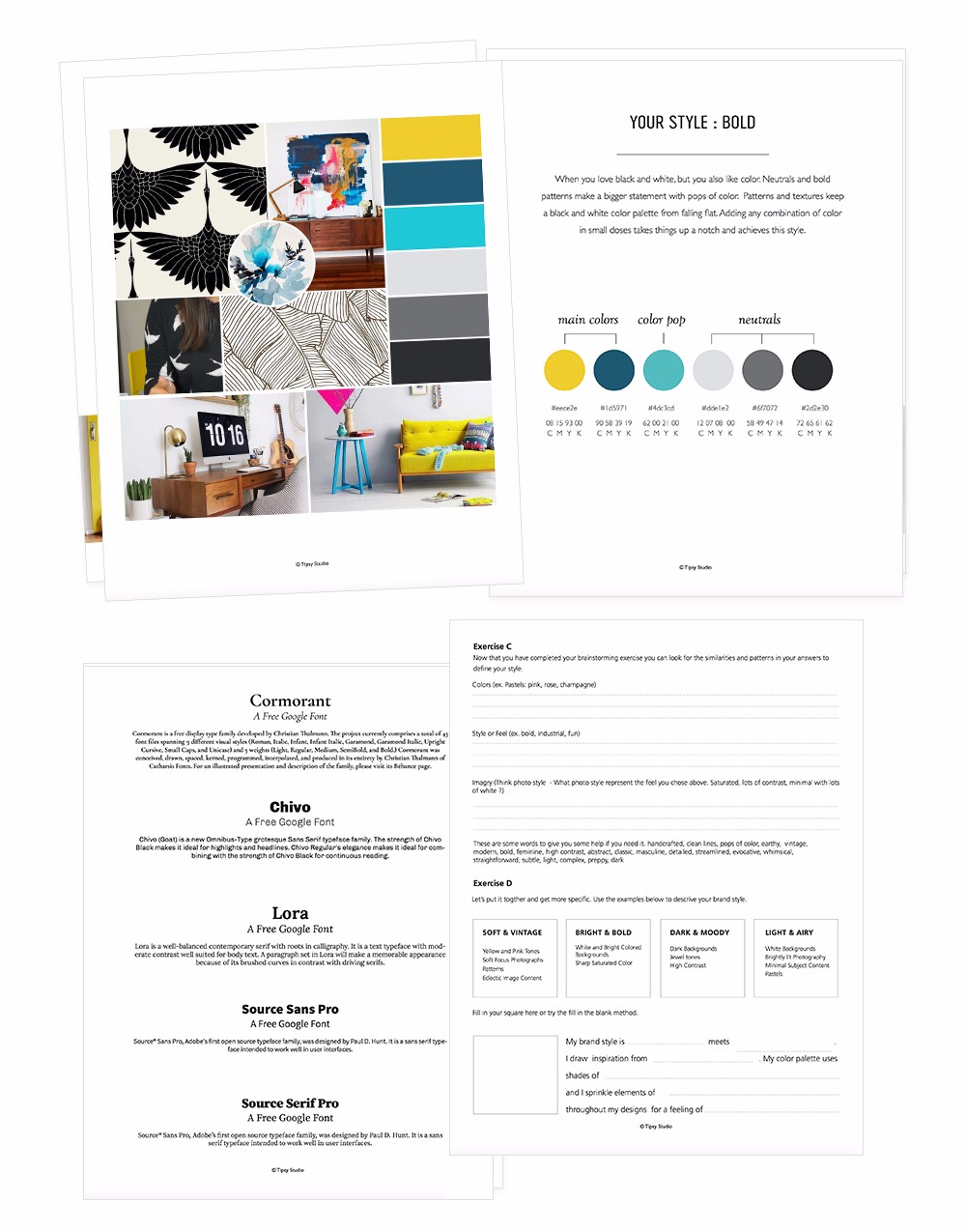 I LOVED the DIY Branding for Entrepreneurs e-course by Tipsy Studio. As someone who thought branding was mostly font and colors, I learned a lot about the foundations of branding as well as best practices for making a compelling and beautiful aesthetic. If you're new to branding or can't afford to hire someone, this is a fantastic course that will guide you through the basics. My favorite section was "Defining Your Mission" since it made me stop and think about what I truly wanted to accomplish with my business and how to verbalize it effectively.
— Rachel Wynn - Starlightsoical